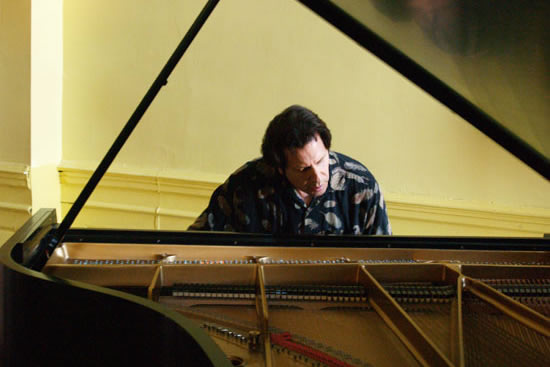 Photo by Michael Wilderman/jazzvisionsphotos.com
Joel Futterman, Piano and Indian Flute
Determined to push the limits of the piano to techniques never heard in jazz, Joel began a 25-year regimen of practicing 8-10 hours a day. During this period, he developed a three-hand technique based on completely autonomous playing between the hands. With more than 70 recordings, he is considered one of the most innovative yet enigmatic new music pianists.
Known for his spirited, highly imaginative, and innovative piano technique, Joel Futterman is an internationally recognized veteran pioneer into the frontiers of spontaneous, improvised music. He is considered one of the foremost inventive and adventurous artists shaping the creative, progressive music scene today. Futterman continuously pushes the limits of the piano as he explores new musical horizons. He has performed across North America and Europe including at such noted music festivals as the Tampere Jazz Festival in Finland, the Vision Festival in New York, the New Orleans Jazz & Heritage Festival, and the Guelph Festival in Canada. He has performed with such notable jazz innovators as Jimmy Lyons, Rahsaan Roland Kirk, Paul Murphy, Joseph Jarman, Richard Davis, William Parker, Alvin Fielder, and Hal Russell; as well as Edward 'Kidd' Jordan, with whom he has had a highly productive association. For many years, Futterman has also played the Indian Wooden Flute.
Joel Futterman was born in Chicago, IL. He grew up and lived in Chicago until 1972. Joel had piano lessons from about age 9-11, then continued playing on his own, eventually studying theory and harmony with Alan Swain. Joel met Clarence (Gene) Shaw when he was 18 and studied with Clarence for two years. Clarence was an important influence at the time. One night Clarence invited Joel to his home for a party. He introduced Joel to Charles Mingus. Joel recalls that Mingus gripped his hand firmly and stared up at the ceiling.
Joel attended University of Illinois in Chicago obtaining a (B.S.). Herman Finer, professor of political science, was a profound influence and encouraged Joel to pursue his creative endeavors.
While Joel was in college, his mother passed away and he isolated himself and began practicing 12 to 16 hours a day. Practicing was the only comfort for him at this time.
Joel attended Northeastern University in Chicago and worked on an MS in Education. He was nine hours short of receiving the degree when he decided to leave Chicago. Joel did receive an MS in Education with an endorsement in Reading at Old Dominion University in 1975.
In 1972, Joel moved to Virginia, where he resides today, in a personal quest to develop his creative voice. His first album, CAFETERIA, was released in 1980 to considerable acclaim due to its originality. Since then, his recordings have included a number of jazz legends, such as Jimmy Lyons, Richard Davis, Hal Russell, William Parker and others. In 1994, photographer Michael Wilderman introduced Joel to Edward 'Kidd' Jordan, and since then Joel has enjoyed many rewarding musical collaborations with Kidd and drummer Alvin Fielder. Also, Joel Futterman has had a deep association with artist Ike Levin, founder of the Charles Lester Label.
A reflection from Joel:
Long distance swimmers and runners talk about hitting the wall. I found there was a wall in music, and if I could get through the wall, my mind and hands became as one. It was an incredible realization for me. The potential of the mind and hands becoming as one completely turned my life around. I found what I had been striving for and realized that I had to leave Chicago to develop the realization. In other words, I had to find a quiet place to practice.
Of course, it is much easier now, because after tens of thousands of hours, and 45 years of practice, my mind and my hands are one. I also still feel like a beginner. I don't forget what I learn. I unlearn what I learn so something fresh comes out in any given moment.
---
Joel Futterman
Joel Futterman's music has the ability to create an enjoyable shift in human consciousness, one designed to help the listener either become more consciously aware of his/her surroundings or to become more aware of sensations, thoughts and images within our own mind and body. - Robert Sigler
Spontaneously created improvised music not only requires skilled musicianship, but also courage and unbounded reservoir of imagination. Yet what is often not acknowledged is that it also demands enormous physical stamina and endurance. Highly concentrated listening combined with unrestrained emotional expression that bares the soul place enormous physical demands on an artist like Joel Futterman. This music, while created fully "in–the–moment," is not by any means totally "free." While the music is void of preconceived directions and does not conform readily to traditional music structures and conventional sensibilities of harmony, tonality, or rhythm, it is by no means random. Through intense focused listening, Joel Futterman remains highly attuned and responsive to each phrase, connection, resolution, mood, dynamic, and any transition that evolves. This produces a remarkable coherency to the music.
Joel Futterman plays off the textures and sounds created by each phrase. From the depths of calm and tranquility to the heights of raw emotionalism expressed at blistering tempos, each musical phrase is declared with intention and true purpose. Musical ideas are expanded on or redirected at times to generate creative tension. Each phrase is then masterfully resolved with the same deliberateness. Conscious use of space and silence is used collectively to frame and thereby, crystallize musical ideas. While this use of space and silence is more pronounced during the ballad-like excursions when the tempo is slowed and the richness of lyrical forms expanded, is also quite evident during the more up-tempo pieces where musical ideas are fired off with mind boggling speed superimposing and layering over each other as they meld and build to near explosive levels. Transitions within the musical journey itself are so smoothly and flawless that they are not recognizable until the change is completed and suddenly we are aware that the composition has taken a new direction. Such is the potency of this coherency that is incredulous to grasp that the music was not pre-conceptualized or "pre-scored." It is that Joel Futterman's artistic expression is based in the communion of instinct, emotion, and spirit.
Throughout the diverse forays and excursions that comprise Joel Futterman's artistry, there are subtle references to the musical heritage that has influenced Joel Futterman's creative expression. Whether it is the mournful bluesy cries, the elegantly complex and open chord sequences, the bop –inspired poly-rhythms, or the interactive improvisations that draw from the "shouts" and "field calls" that have formed the basis of modern jazz, tribute is paid to significant musical inventions of the past. However, Joel Futterman never succumbs to the comfort of cliches or the predictability of formulaic patterns. Instead, Joel Futterman searches and probes endlessly without hesitation for unchartered pathways into unexplored territory. The musical quest for Joel Futterman is much an adventure as it is for the listener.
So close your eyes, empty your mind. Let your preconceptions and expectations dissolve and fade away. And let Joel Futterman's music take you on a journey of varied images, impressions, and emotions.
Joel Futterman's music is music for your soul.
Written by Ike Levin